This Land of Snow: A Journey Across the North in Winter
by Anders Morley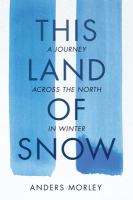 A passionate skier since he was a child, Anders Morley dreamed of going on a significant adventure, something bold and of his own design. And so one year in his early thirties, he decided to strap on cross-country skis to travel across Canada in the winter alone. This Land of Snow is about that journey and a man who must come to terms with what he has left behind, as well as how he wants to continue living after his trip is over. It is an honest, thoughtful, and humorous reckoning of an adventure filled with adrenalin and exuberance, as well as mistakes and danger. Along the way readers gain insight, both charming and fascinating, into Northern outdoor culture and modern-day wilderness living, the history of northern exploration and Nordic skiing, the right to roam movement, winter ecology, and more. Throughout, Morley's clear, subtle, and self-deprecating voice speaks to a backwoods-genteel aesthetic that explores the dichotomy between wildness and refinement, language and personal story, journey and home.
---
Blackmail and Bibingka
by Mia P. Manansala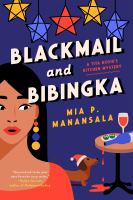 When her long lost cousin comes back to town just in time for the holidays, Lila Macapagal knows that big trouble can't be far behind in this new mystery by Mia P. Manansala, author of Arsenic and Adobo. It's Christmastime in Shady Palms, but things are far from jolly for Lila Macapagal. Sure, her new business, The Brew-ha Cafe, is looking to turn a profit in its first year. And yes, she's taken the first step in a new romance with her good friend, Jae Park. But her cousin Ronnie is back in town after ghosting the family fifteen years ago, claiming that his recent purchase of a local winery shows that he's back on his feet and ready to give back to the Shady Palms community. Tita Rosie is thrilled with the return of her prodigal son, but Lila knows that wherever Ronnie goes, trouble follows. She's soon proven right when Ronnie is accused of murder, and secrets and rumors surrounding her shady cousin and those involved with the winery start piling up. Now Lila has to put away years of resentment and distrust to prove her cousin's innocence. He may be a jerk, but he's still family. And there's no way her flesh and blood could actually be a murderer...right?

Tita Rosie's Kitchen #3
---
The White House Plummers: The Seven Weeks That Led to Watergate and Doomed Nixon's Presidency
by Egil "Bud" Krogh & Matthew Krogh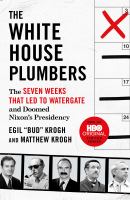 The true story of The White House Plumbers, a secret unit inside Nixon's White House, and their ill-conceived plans stop the leaking of the Pentagon Papers, and how they led to Watergate and the President's demise. In a secluded office in President Nixon's White House in 1971, Egil "Bud" Krogh was summoned to a closed-door meeting by his mentor-and a key confidant of the president-John Ehrlichman. Expecting to discuss the most recent drug control program launched in Vietnam, Krogh was shocked when Ehrlichman handed him a file and the responsibility for the Special Investigations Unit, or SIU, later to be notoriously known as "The Plumbers." The Plumbers' work, according to Nixon, was critical to national security: they were to investigate the leaks of top-secret government documents, including the Pentagon Papers, to the press. Driven by blind loyalty, diligence, and dedication, Krogh, along with his co-director David Young, set out to handle the job, eventually hiring G. Gordon Liddy and E. Howard Hunt to break in to the office of Dr. Fielding, a psychiatrist treating Daniel Ellsberg, the man they suspected was doing the leaking. Krogh had no idea that his decisions would soon lead to one of the most famous conspiracies in presidential history and the demise of the Nixon administration. The White House Plumbers is Krogh's account of what really happened behind the closed doors of the Nixon White House, and how a good man can make bad decisions, as well as the necessity of maintaining your integrity. Including the story of how Krogh served time and later rebuilt his life, The White House Plumbers is gripping, thoughtful, and a cautionary tale of the ends justifying the means.
---
Ducks: Two Years in the Oil Sands
written and illustrated by Kate Beaton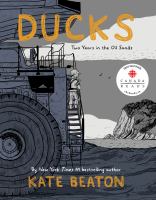 Katie heads out west to take advantage of Alberta's oil rush-part of the long tradition of East Coasters who seek gainful employment elsewhere when they can't find it in the homeland they love so much. Katie encounters the harsh reality of life in the oil sands, where trauma is an everyday occurrence yet is never discussed. Beaton's natural cartooning prowess is on full display as she draws colossal machinery and mammoth vehicles set against a sublime Albertan backdrop of wildlife, northern lights, and boreal forest. Her first full length graphic narrative, Ducks: Two Years in the Oil Sands is an untold story of Canada: a country that prides itself on its egalitarian ethos and natural beauty while simultaneously exploiting both the riches of its land and the humanity of its people.
---
The Queen's Bed: An Intimate History of Elizabeth's Court
by Anna Whitelock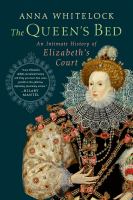 Queen Elizabeth I acceded to the throne in 1558, restoring the Protestant faith to England. For over forty years, her bedchamber was the heart of the court. Elizabeth's private life was of public concern. Her body represented the State itself, and her bedfellows were charged with safeguarding both the Queen and her propriety. These women bore witness to the figure beneath the makeup and the raiment, and also to the Queen's rumored dalliances. They were her friends, confidantes, and spies - nobody knew her better. And until now, historians have overlooked them. In The Queen's Bed the historian Anna Whitelock offers a revealing look at the Elizabethan court and the politics of intimacy, dramatically reconstructing the Queen's quarters and the women who patrolled them. With expert research and lively prose, Whitelock weaves a fascinating tale of sex, gossip, conspiracy, and intrigue, brought to life amid the colours, textures, and routines of the court.
---
The Egypt Game
by Zilpha Keatldy Snyder
The first time Melanie Ross meets April Hall, she's not sure they'll have anything in common. But she soon discovers that they both love anything to do with ancient Egypt. When they stumble upon a deserted storage yard behind the A-Z Antiques and Curio Shop, Melanie and April decide it's the perfect spot for the Egypt Game. Before long there are six Egyptians instead of two. After school and on weekends they all meet to wear costumes, hold ceremonies, and work on their secret code. Everyone thinks it's just a game, until strange things begin happening to the players. Has the Egypt Game gone too far?
---
The Good Asian, Vol. 2
by Pornsak Pichetshote illustrated by Alexandre Tefenkgi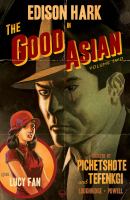 Self-loathing Chinese-American detective Edison Hark uncovers the secrets behind the murders terrorizing 1936 Chinatown and their link to his family—but exposing the truth may mean toppling everything he holds dear.
---
Lumberjanes, Vol. 1: Beware the Kitten Holy
by Noelle Stevenson & Grace Ellis illustrated by Brooke Allen
At Miss Qiunzilla Thiskwin Penniquiqul Thistle Crumpet's camp for hard-core lady-types, things are not what they seem. Three-eyed foxes. Secret caves. Anagrams. Luckily, Jo, April, Mal, Molly, and Ripley are five rad, butt-kicking best pals determined to have an awesome summer together... And they're not gonna let a magical quest or an array of supernatural critters get in their way! The mystery keeps getting bigger, and it all begins here.
---
Which Side Are You On
by Ryan Lee Wong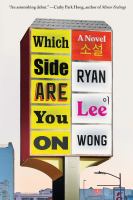 Twenty-one-year-old Reed is fed up. Angry about the killing of a Black man by an Asian American NYPD officer, he wants to drop out of college and devote himself to the Black Lives Matter movement. But would that truly bring him closer to the moral life he seeks? In a series of intimate, charged conversations, his mother—once the leader of a Korean-Black coalition—demands that he rethink his outrage, and along with it, what it means to be an organizer, a student, an ally, an American, and a son. As Reed zips around his hometown of Los Angeles with his mother, searching and questioning, he faces a revelation that will change everything.
---